Holidays by the sea are not only about sunbathing on the beach and swimming in the water. It is also an opportunity to move, walk, ride a bike or explore the surrounding monuments, as well as to experience something unusual. Family holidays by the sea can be an opportunity to practice sports, discover new passions and explore the beautiful corners of the west coast. All you need to do is make a list of local tourist attractions and you can plan every day so that you can find time for sunbathing and traffic.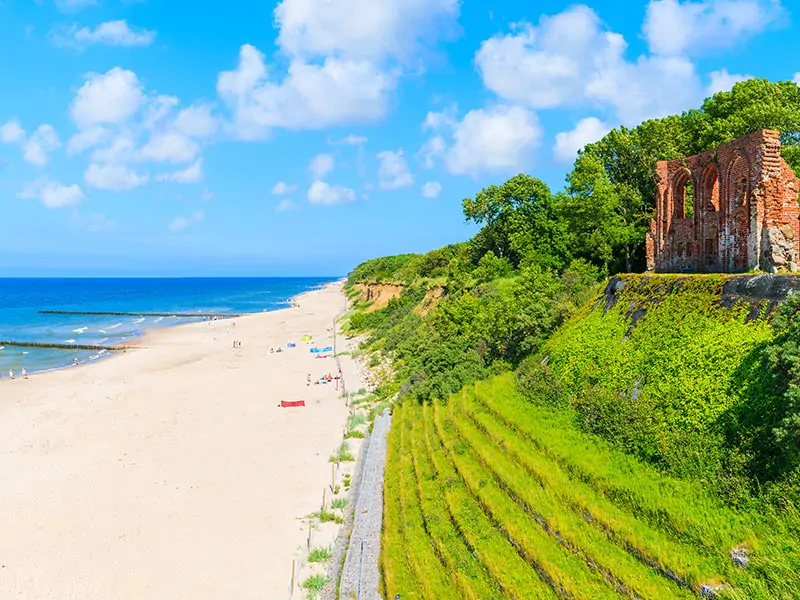 Hiking and cycling trails
Walking and cycling is a great combination of movement, observation of coastal nature and breathing fresh, healthy air. It is worth coming to Pobierowo with bikes, but if someone does not have such a possibility, these bikes can also be rented on the spot. The Pobierowo area abounds in interesting places for walks, because there is no shortage of hiking trails here! As many as two main tourist trails run through Pobierowo itself: Nadmorski, Czesław Piskorski and Pobrzeże Rewalskie Trail. Both are not much longer than 10 km, which makes them ideal even for a trip with children. The most popular bicycle routes are: The Summerobierowo Trail and the Western Liaison Trail. Cycling trails are mainly gravel roads, clearly marked on which you ride safely and comfortably.
Rope park and other amusements
Rope parks and amusement parks are ideal for families with children. They offer active, sometimes a bit extreme, but always safe ways of spending free time. The Gibon rope park in Rewal is worth recommending. In total there are 12 routes and over 150 different obstacles to overcome. Revolta rope climbing park in Pogorzelica consists of 4 routes of different difficulty levels, one of them is also prepared for children from 3 years of age. In Pobierowo itself there is a rope climbing park "Polskie Morze". It has different difficulty levels. Amusement parks are also very popular among families with children. In the vicinity of Pobierowo we will find three:
Miniature and Railways Park, which is located in Dziwnow. As the name suggests, we can find here replicas of locomotives and wagons, as well as miniature lighthouses. An additional attraction for children is the opportunity to ride a miniature train.
Deep-sea enthusiasts eagerly visit the Whale Park in Rewal. Visitors can see models of sharks, whales and squids.
The Fairytale Cottage in Rewal, in turn, is the land of the most famous fairy tales, also those a bit terrible
They are also very popular:
Narrow-gauge Seaside Railway – runs on two routes, on the section between Pogorzelica and Niechorze. It takes about 40 minutes to get there in partially open retro wagons, and you can also take your bikes with you.
Lighthouse in Niechorze, which was built at the end of the 19th century on a high cliff. From the lighthouse there is a beautiful view of the sea, with a telescope you can also see the surrounding villages hidden in the pine forests.
Marina in Kamien Pomorski from where a tourist ship of pirates sails to Dziwnow. Before boarding a ship, let's book some time for delicious ice cream or lunch in Marina.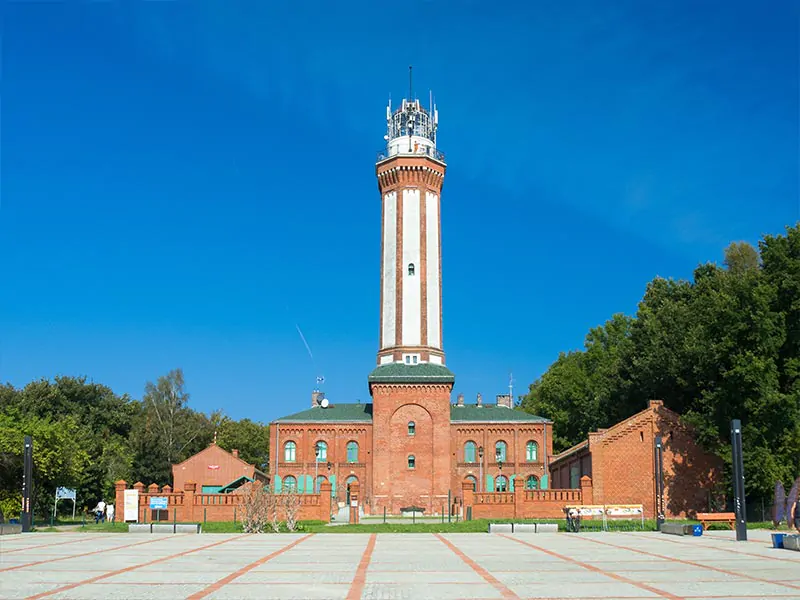 Swimming pools in Pobierowo
We know that the weather by the sea is changeable and the water in the Baltic Sea is sometimes crisp. However, this is only an additional reason to come to Pobierowo, where the whole family can harden in the surroundings of a resinous, pine forest. In such an attractive location by the sea you can also use the swimming pools. There are several indoor swimming pools in the area, which will please children and their parents:
Recreational and therapeutic centre Damian – public swimming pool with heated water. It can be used by guests from outside the resort.
The Sandra SPA in Pogorzelica is open to the public and offers not only an indoor swimming pool, but also other attractions, including slides and a climbing wall.
Mira-Mar Rehabilitation and Recreation Centre – the heated swimming pool is also available for guests from outside the centre.
Bowling alleys
Evenings or less sunny days can be spent with the family in the bowling alley. Bowling requires a bit of precision and strength, motivates to compete, but above all it is a great way to move and strengthen family ties. The bowling alley with four lanes is located in the Sandra Spa centre in Pogorzelica and is open to the public.
Museums and exhibitions
A trip with children to the sea is a great opportunity to show the children that museums and exhibitions can be interesting, broaden their horizons and it is worth visiting them not only on the occasion of the Night of Museums.
In Pobierowo and its surroundings there are museum objects and permanent and temporary exhibitions where children of all ages can be taken.
Butterfly in Niechorze
Papugarnia in Pobierowo
for small scientists:
Multimedia Museum on the Cliff
Sea Fisheries Museum in Niechorze
for those who are curious about the world:
Museum of Wax Figures in Niechorze
Exhibition of Railway Miniatures in Rewal
Great Exhibition of LEGO Bricks in Rewal
Monument
There is no shortage of monuments in the vicinity of Pobierowo and in the village itself, so lovers of history, architecture and people who value active recreation have something to visit: palaces, churches, castles, historic tenement houses, manors or houses, as well as towers are places that are worth seeing:
An old Dutch windmill stands in the village of Lędzin, 2 km from Niechorze.
The palace and farm complex in Trzęsacz. It is currently a hotel with a beautiful garden park and a stable.
Ruins of a Gothic church on a slope in Trzęsacz
In the western part of Pobierowo you can see from the outside the house where Ewa Braun, Adolf Hitler's wife, lived.
Historic stations of the Seaside Narrow Gauge Railway: in Rewal or in Pogorzelica.
Dreżewo Palace – unfortunately it falls into ruin
countercathedral in Kamień Pomorski, with famous organs, where the Festival of Organ Music takes place in summer
Beach in Pobierowo
Beach in Pobierowo is an excellent place to relax, so among the beachgoers we can hear not only the voices of Polish tourists, but also those from Germany, the Czech Republic, Slovakia….The beach is wide, sandy, with gentle descents. The swimming pool stretches over 400 meters and is guarded by lifeguards between 10 a.m. and 6 p.m. However, this is not the only advantage – there are also slides, events and sports competitions waiting for the swimmers.
Horseback riding
Holidays at the seaside are also an opportunity to learn or polish horse riding skills. In the vicinity of Pobierowo there are two studs, which enable children and adults to take lessons and visit the area from the horseback level:
Horse Stud Kierat
Pod Kogutem" Stud in Wrzosowo
Horse riding is a general developmental sport, which does not require a lot of fitness, and which gives a lot of fun Even a short ride on a horse or pony, relaxes and improves the mood.
Skatepark
Building skateparks is for many cities and towns an idea to activate youth and promote sport. Young people, instead of walking on housing estates, do an interesting, physically developing sport, do not drive on dangerous streets, but on the fenced area, do not destroy benches, stairs or sidewalks. Skatepark is also a great attraction for tourists who are looking for new experiences. In Pobierowo and its surroundings there are as many as three skateparks.
In Rewal a professional skatepark has been built for people who are already skilled in riding on skates or boards.
In Niechorze is well equipped skatepark for young people on skateboards, bikes and skates.
Very professional skatepark is also in Pobierowo.
The eye of illusion
One of the most popular places to relax during holidays by the sea is the entertainment complex "OKO Iluzji" in Pobierowo. This is the only attraction on the coast, where children can experience a bit of magic, but also a large dose of education. It is worth taking your camera with you, because the pictures from the Eye of Illusion are an amazing souvenir for years.
Tennis courts
Playing tennis is an entertainment for physically fit, agile and not complaining about the lack of reflex. Properly prepared courts with a sports equipment rental, offering tennis lessons for children and adults, can become a contribution to practicing a new and fascinating sport. In Pobierowo and its surroundings there are as many as four public sports complexes with football pitches, volleyball, treadmills and tennis courts, which can be visited with the whole family. These are courts in:
Rewalu
Pustkowiu
Niechorzu
Pobierowie.
You can play on the courts even after dark, because they are well lit. It is also worth asking about tennis lessons.
Pargliding flights
A paragliding flight is an opportunity to look at the beautiful beaches and the sea from above, break away from reality and experience a fascinating adventure. From May to the end of the holiday between Rewal and Trzęsacz there are paragliders who take part in their caring wings (literally and figuratively) of passengers. The flights offered can be free-flying or backpack driven.
Restaurants, bars, and shopping in "Biedronka"
Pobierowo is a summer resort, which is why local entrepreneurs have set themselves the goal of preparing dishes that will satisfy the tastes of tourists from all over the world. There is no shortage of exclusive restaurants serving top-quality starters and dinners as well as bars with fried fish or serving quick dishes and snacks for real hungeries. The choice of bars and restaurants in Pobierowo is so large that everyone will find something for themselves. During holidays at the seaside everyone has the right to rest and if you do not want to cook during the holiday, it is worth taking advantage of the offer of dishes served in local pubs.
What can be eaten during the holidays in Pobierowo:
homemade dinners
pizza and Italian dishes
traditional fish from the Baltic Sea
fast food dishes.
There are also ice cream parlours, cake shops and shops, bigger shopping in "Biedronka".